Your first visit at a vein treatment center must make you comfortable and confident that your vein problems will be taken care of appropriately. You want to feel that your vein doctor listens to your concerns, understands your symptoms and your lifestyle, has the expertise to provide the best diagnosis and treatment, and is available when needed. You will find all of that and more when you visit the Vein Care Center. Call today to schedule an appointment at our NYC offices located in Upper East Side, Midtown Manhattan, Greenwich Village and the Financial District -or in New Jersey, call the vein experts in East Brunswick, Riverdale, Englewood Cliffs, Paramus or Cranford.
What Happens at My Vein Consultation?
Your first visit to the Vascular Vein Center is the time to present your vein specialists with the reasons for your visit, including your symptoms and concerns. The vein specialists, led by Dr. Jonathon Arad, listen closely because they understand that everyone has different goals and expectations. Your doctor conducts a physical examination of your veins, takes your medical and family histories, and then orders tests to verify the diagnosis.
When your vein doctor concludes that your condition warrants specific vein treatments, you are provided with specific treatment options. Your doctor may recommend that you start with simple, non-invasive treatments. After you have all the facts and make a decision, you make an appointment for the treatment, based on your schedule, type of techniques to be administered and the urgency required for the procedure. An immediate varicose and spider vein treatment may be possible, as well.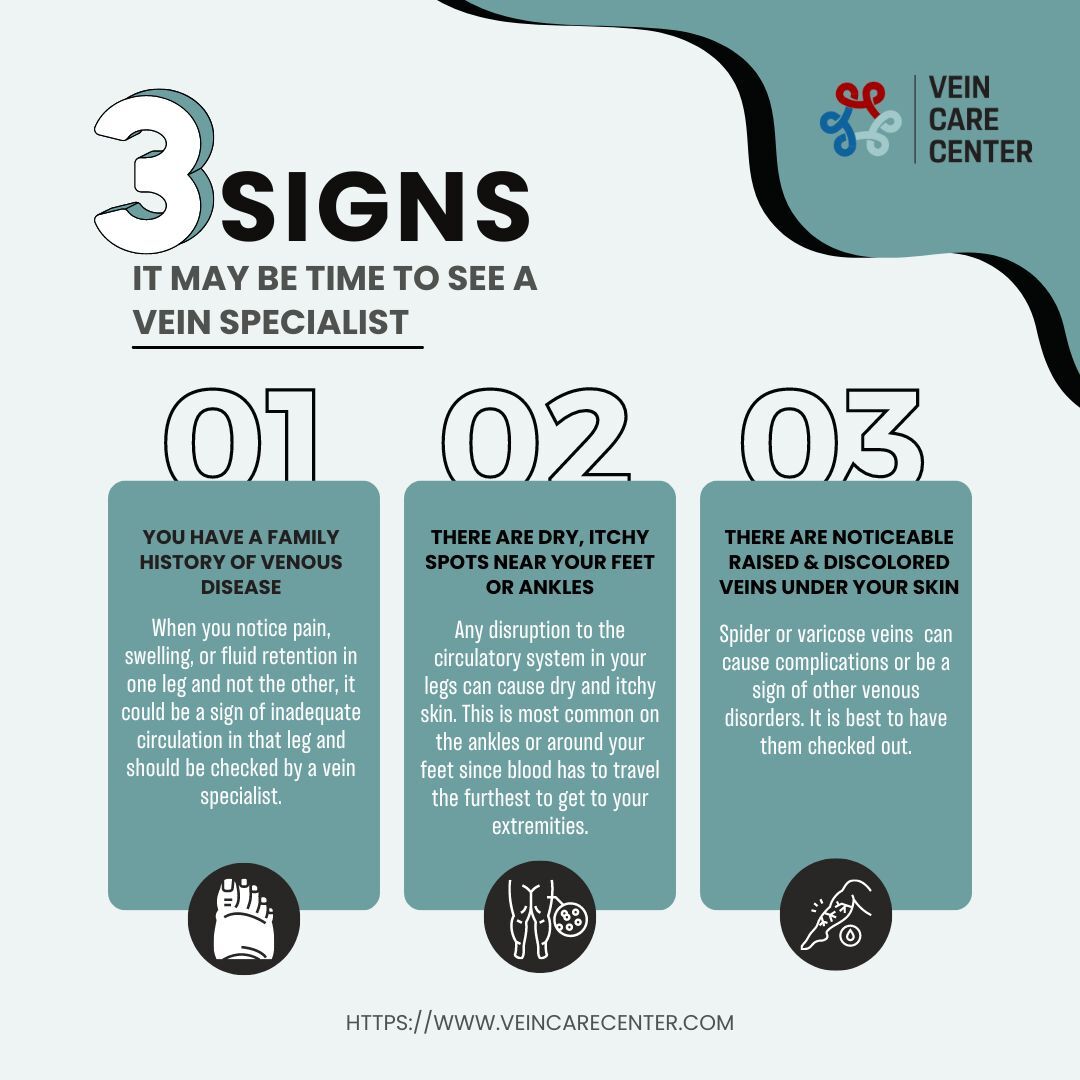 Why Should I Make an Appointment for a Vein Consultation?
No problem is inconsequential when it comes to your blood vessels. While you may not have a seriously painful disease, if untreated, vein problems can lead to more serious consequences, including life-threatening conditions. It is best to get qualified advice from a vein specialist, at the Vein Care Center, with the most up-to-date diagnostic tools and treatment options.
Everyone experiences pain and discomfort in their own way. Some vein conditions don't come with any symptoms. Make an appointment for a vein consultation if you are at high risk of developing vein disease or if you experience symptoms that include:
Pain in your arms or legs in the form of burning sensations, tired or heavy-feeling legs, swelling, itching or skin discoloration near the source of the pain
Relief from the pain when you wear compression stockings or elevate your legs or arms
Symptoms that get worse throughout the day
Veins that bulge, especially if they are hard or tender to the touch
Tears in your skin
Sores on your leg that don't heal
Unsightly veins that show through the skin and cause embarrassment or low self-esteem
What Are False Beliefs About Vein Disease?
As part of your treatment at Vein Care Center, an experienced doctor who specializes in veins dispels myths regarding vein disease. These myths include:
"Vein disease only happens to the elderly". In fact, by the time you're in your 30s, it's likely you may already have vein disease and not even know it.
"You can see all vein problems". In fact, most vein diseases occur below the surface and can only be seen with an ultrasound.
"Women have more vein problems than men". In fact, men and women both have vein disease equally.
"You are okay if you had an ultrasound in the emergency room". In fact, most hospitals and radiology centers only look for deep vein thrombosis (DVT). It takes a complete ultrasound to locate and diagnose venous insufficiency.
Additionally, the top vein doctors at the Vein Care Center provide exceptional follow-up care. Included in your post-treatment care, is extensive information about how to prevent vein problems going forward.
"Overall, very satisfied with their work. I used to hide my legs because they were covered with varicose veins but not anymore. I am not ashamed of my legs anymore.
Lita R.
How Can a Vein Doctor Help Me Avoid Vein Disease?
As part of your vein consultation, your doctor explains what may be causing your vein disease, how you are at risk, and what steps you can take to prevent it from worsening or recurring. For example, you may be at a higher risk of developing vein problems if you:
Have a family history of vein disease
Are obese or overweight
Are pregnant
Are over the age of 50
Work at a job that requires you to sit or stand for long periods of time
Playing sports that entail getting hit in the legs, like football
Smoking
Lifting heavy objects incorrectly
Weightlifting
Having high blood pressure
What Tests Are Performed on Veins?
Your vein specialist often can tell what the issue is just by looking at your veins, as in the case of ulcers, varicose veins and spider veins. To ensure that you don't have any underlying vein conditions, such as venous insufficiency, superficial thrombophlebitis or deep vein thrombosis, your doctor runs additional tests that may include:
A mapping or wellness ultrasound
Electromyography (EMG)
Echocardiogram
CT angiogram
Additional tests are run when you return for your follow-up visits to ensure that the treatment provided is working as planned. Your ultimate satisfaction and return to full mobility and health are priorities for your vein doctors at the Vein Care Center.
Contact the nearest office today for an expert vein consultation. Contact one of the multiple offices in New York City – the Financial District, Greenwich Village, Midtown Manhattan, or Upper East Side – or in New Jersey – Bergen County, Morris County and Union County.