Spider veins are those web-like veins that can appear on the face or legs. When you want to know how to get rid of spider veins, call the top-rated specialists at the Vein Care Center. They have a number of proven methods available to you for spider vein removal, including laser therapy for spider veins.
With convenient hours and multiple locations, you can receive spider vein laser treatment in New York City – the Financial District, Greenwich Village and Midtown Manhattan, or Upper East Side. In New Jersey, get spider vein treatment in Riverdale, Englewood Cliffs, Paramus, Cranford and East Brunswick. Call today for a consultation.
What Are Spider Veins?
Damaged or broken superficial veins beneath your skin are known as spider veins. These damaged veins appear blueish, purple or reddish. Spider veins mostly are a cosmetic nuisance, affecting just the appearance of your skin, but they can lead to more serious vein complications if left untreated.
Spider veins form because of damage to the valves in the vein. The one-way valves in your blood vessels ensure blood flows in a single direction, back toward the heart. Malfunctioning valves increase pressure on the vein walls, which leads, eventually, to the vein breaking down.
While spider veins aren't painful, you can't ignore them because that can lead to complications, such as venous insufficiency. At the Vein Centers in New York City and in New Jersey, vein specialists, led by Dr. Jonathan Arad, use laser therapy for spider veins and other advanced methods to treat a wide range of vein conditions.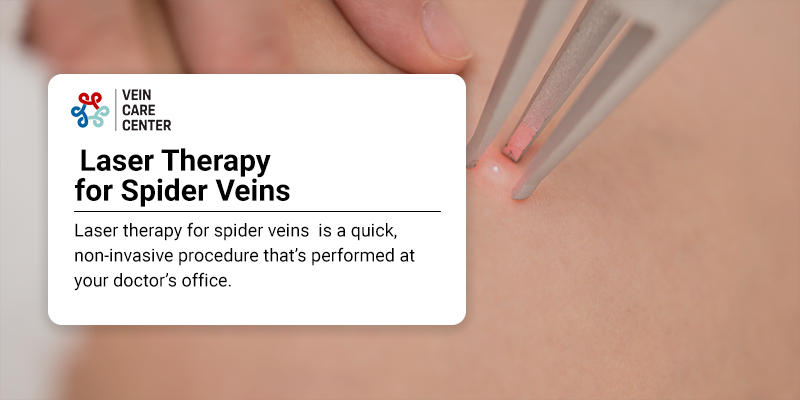 What Is Laser Therapy for Spider Veins?
Laser therapy for spider veins is one of the most effective vein treatments used by doctors today. This is a quick, non-invasive procedure that's performed at your doctor's office.
The process begins with a vein consultation and continues with a series of steps:
Your doctor uses a focused beam of light to heat and damage a targeted vein with faulty valves.
During this laser light therapy, the walls of the vein absorb the heat, which damages it without affecting the surrounding tissues.
Blood reroutes to other healthy superficial veins.
Your body gradually reabsorbs the destroyed vein.
You may need more than one session to effectively destroy the affected vein.
The spider vein gradually fades as it gets reabsorbed.
The procedure requires the expertise of a vein specialist. At the Vein Care Center, a board-certified surgeon specializing in the diagnosis and treatment of varicose veins, spider veins and other vein conditions performs the technique.
What's Involved in this Spider Vein Treatment?
After getting an accurate diagnosis, your doctor discusses how to get rid of spider veins using a variety of interventional treatment options. If your doctor recommends laser spider vein treatment, you get the most advanced treatment.
The spider vein laser treatment procedure includes:
A review of your medical history to determine if there's a family history of varicose veins or spider veins
A physical examination of the affected veins
A vein consultation, which includes a discussion of your expectations, potential side effects and outcomes of the procedure
Recommendations to avoid sunbathing, anti-inflammatory drugs and other products that increase the chance of bleeding
Identifying the treatment site
Protecting your eyes with goggles, especially when the spider veins are on your face
Placing the laser device on your skin to send the light beam into the affected vein or veins
You may experience some discomfort, as the laser machine heats up, but it's only temporary. This is a safe, non-invasive procedure with a low risk of complications, which are greatly minimized when you trust the experts at the Vein Care Center. Your vein doctor monitors your condition after the spider veins removal procedure. Using laser therapy, there's no downtime, so you can immediately return to your normal routines.
"I have to say, the center is beautiful, it smells really good. I really have to say it was truly an amazing experience. The doctor was very caring and honest.
Alec S.
Why Opt for Laser for Spider Veins?
In addition to reducing your risk of further vein problems, benefits of using laser spider vein removal include:
A non-surgical procedure that's fast and effective.
The laser therapy has minimal side-effects.
The use of local anesthetic reduces swelling, pain and discomfort during the procedure.
The procedure clears visible patches of blood vessels.
Laser therapy for spider veins has no downtime, so you can resume activities immediately.
It's less painful, as compared to invasive surgeries such as vein stripping.
If you have visible web-like spider veins, contact the vein specialists at the Vein Care Center for effective treatment. With multiple locations in NYC and NJ, the doctors utilize the latest technology for diagnoses and laser spider vein removal.
The vein specialists also treat a wide range of other vein conditions, including:
For more information on how to get rid of painful and unsightly veins for good or to schedule a laser spider vein removal appointment with Dr. Jonathan Arad, call us at (212) 242-8164 or (201) 849-5135. You may also visit the top-rated Vein Care Center in person and discover firsthand why so many of our patients consider us to be the best laser treatment for leg veins providers in NYC and Paramus, Northern NJ.