Endoscopic vein surgery is a specialty that requires extensive training. Whether you need endoscopic vein harvesting or endoscopic varicose vein surgery, rely on experts with that training and experience. Call the vein specialists at the Vein Care Center for a consultation. They offer convenient hours and locations in New York City's Financial District, Greenwich Village and Midtown Manhattan, and Upper East Side. In New Jersey, find the nearest office in Paramus, Riverdale, Englewood Cliffs, Cranford or East Brunswick. If you need vein surgery, call the experts.
What Is Endoscopic Vein Surgery?
During endoscopic vein surgery, a vein surgeon makes a small incision to access a distressed vein. Using a tiny camera located in a tube, together with a surgical device, your vein doctor closes an affected vein to stop further blood flow. The blood that used to flow through that vein finds an alternate route.
Endoscopic varicose vein surgery is an effective treatment for severe cases of varicose veins and other vein problems. This surgery works as a permanent solution for complications such as a venous stasis ulcer, which is painful and difficult to heal.
At the Vein Treatment Center with multiple locations in New York City and New Jersey, vein specialists led by Dr. Jonathan Arad have access to the most advanced medical technology for vein treatments. The vein doctors deliver correct diagnoses and the most effective vein treatments.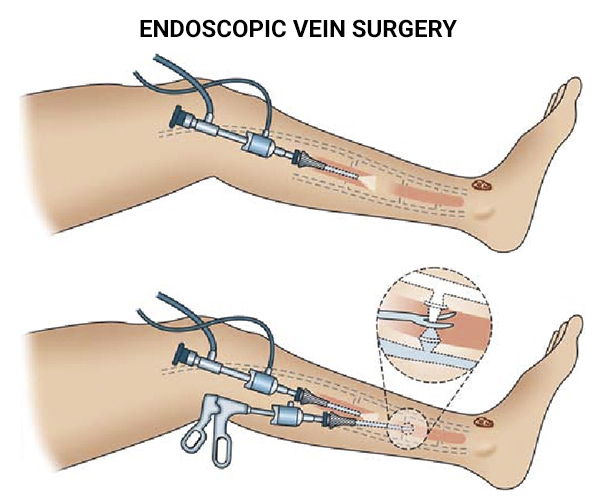 What's the Procedure for Endoscopic Vein Surgery?
Before any treatment for a vein condition, your vein doctor reviews your medical history and carries out a physical examination of your veins during an initial vein consultation. Your diagnosis determines if endoscopic vein surgery is the best approach to treat your vein condition.
If it is, the procedure includes:
Performing an ultrasound to determine the extent of vein damage in your legs
Making an incision in the lower part of the leg, where the target vein is located
Using a special space-making balloon to inflate the damaged vein
Inserting an endoscope, which is a long, thin, flexible tube with a tiny video camera and a light source at the end of it
Guiding the camera goes into the damaged vein through the incision
Tying off the damaged vein to close off blood flow, using the endoscope as a guide
Applying a dressing to stop any bleeding
Providing you with compression stockings for your recovery, as they help reroute blood in the closed-off vein to other healthy surrounding blood vessels
The Vein Care Center has all the necessary expertise and equipment to successfully perform endoscopic vein surgery. Dr. Arad is a board-certified surgeon with expertise in the diagnosis and treatment of a wide variety of vein conditions, including:
Is Endoscopic Vein Surgery Effective?
Severe varicose veins, especially when accompanied by leg ulcers, are painful and potentially dangerous. These ulcers don't heal easily because the blood pressure in the veins that caused them remains high due to valve damage. Endoscopic vein surgery addresses the underlying cause of the vein problem and offers a long-lasting solution.
Your experienced vein doctor may recommend this vein surgery because:
This is a minimally invasive procedure that won't lead to skin scarring
You suffer little downtime after the procedure and can go back to normal activities quickly
This procedure has a lower risk of infection compared to open vein surgeries
By closing off the damaged vein, you enjoy effective treatment for a stubborn leg ulcer
The use of advanced medical technology improves the precision and reduces damage to surrounding tissues
The non-invasive nature of endoscopic vein surgery minimizes the risks involved as well, especially when you rely on doctors who have extensive experience with the procedure. Side effects are greatly reduced when a doctor with the right expertise performs endoscopic vein surgery. This surgery is a highly effective for treatment of varicose veins.
Factors that make you a good candidate for endoscopic varicose vein surgery include:
You've tried conservative treatment of varicose veins with no results
You have a family history of leg ulcers
Your varicose veins have led to a stasis ulcer that won't heal
The symptoms associated with your varicose veins, such as pain and muscle cramping, get worse
"Their staff was wonderful, so caring and so kind. I felt like I made the best decision in coming to vein center as the results have been just amazing.
Ian B.
Why Else Might I Need Endoscopic Vein Surgery?
When you need multiple bypass surgery, your cardiologist typically requires that a vein be stripped from another part of your body to perform the procedure. Endoscopic vein harvesting is the gold standard when it comes to creating that necessary component in a successful heart surgery.
Using a well-trained vein specialist to perform the endoscopic vein harvesting is ideal due to:
The greatly reduced risk of trauma to the vein
High chance of success overall
No need for the cardiologist to learn a new procedure
A short recovery time in the leg from which the vein was removed
The vein being the most effective conduit for the transplant
Greater cosmetic results
Reduced chance of complications
At the Vein Care Center, the vein specialists are friendly and discuss all aspects of their treatments with you. If you want to know more about endoscopic vein surgery, contact the vein specialists at the office nearest you.