Vein problems such as varicose veins can cause unrelenting pain and embarrassment. When you need to have one or more veins treated permanently, call on the Vein Care Center in New York City and Northern New Jersey. Experts, like Dr. Jonathan Arad, diagnose and treat all types of vein abnormalities, and sometimes the recommended procedure is an endovenous laser ablation, which destroys the problem vein from the inside, permanently. Call today for a consultation.
What Is Endovenous Laser Ablation (EVLA)?
Endovenous laser ablation or EVLA refers to an advanced, non-surgical method of treating varicose veins with the help of heat from a laser. Also called endovenous laser treatment or EVLT, it's a relatively painless process, especially when compared with intensive surgical techniques, such as open or endoscopic vein surgery. While both are effective vein treatments, endovenous laser ablation is much less invasive.
In this laser treatment, the laser heat is used to destroy a degraded vein. The dead tissue of the vein naturally dissolves and is discarded by your body. The blood that used to flow through that vein finds other healthy veins to use.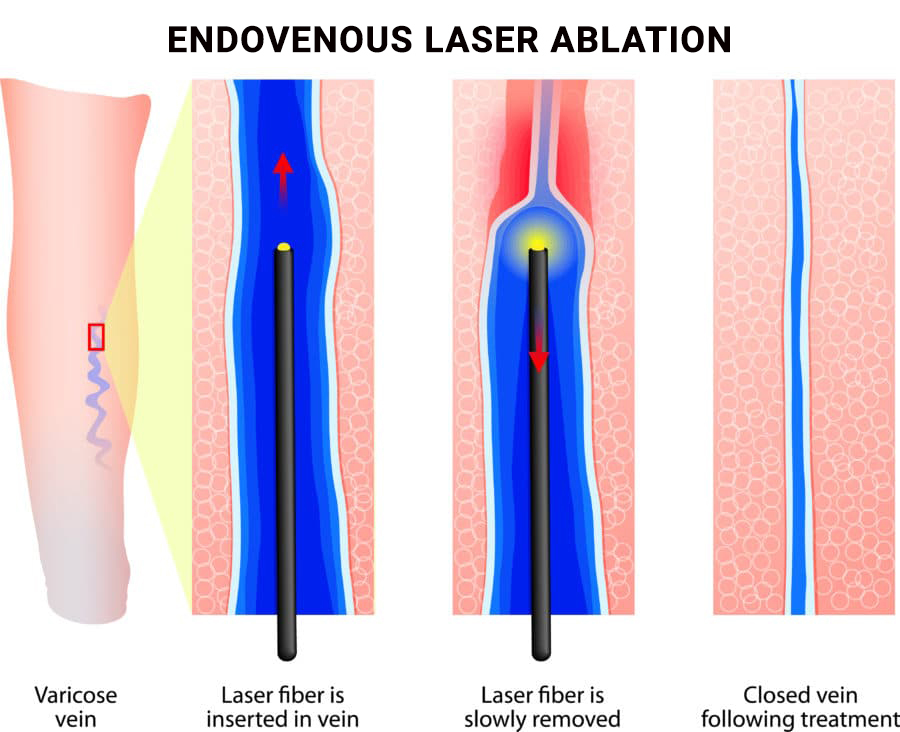 At the Center of Vein Restoration, with locations in New York City and across Northern New Jersey, Dr. Jonathan Arad and other vascular specialists expertly diagnose and treat cases of leg pain due to damaged veins, large arm veins and varicose veins. Dr. Arad is a board certified vein surgeon who specializes in the diagnosis and treatment of all kinds of abnormal vein conditions.
IS EVLT a Purely Cosmetic Procedure?
While an endovenous laser ablation procedure may be done as cosmetic therapy to remove an unsightly varicose vein, it's more often performed to eliminate pain from an abnormal vein.
There are medical implications to leaving painful varicose veins untreated, including:
Superficial thrombophlebitis. ST, as it's called, causes a swollen vein beyond a blood clot. This condition can be treated before it turns into deep vein thrombosis.
Deep vein thrombosis. Also known as DVT, deep vein thrombosis, commonly appears in the lower legs. Varicose veins may appear along with DVT, a dangerous condition involving deep blood clots inside the arm or leg veins. It can lead to a pulmonary embolism.
Leaky veins. If your varicose veins start leaking blood, it can lead to a venous statis ulcer on the surface of your skin.
During your initial consultation with Dr. Arad or another vein specialist at the Vein Care Center, you can expect a physical exam, medical history questions and perhaps even diagnostic imaging tests. The goal is to reach a diagnosis to determine the cause and severity of your condition, which must precede treatment.
How Is Endovenous Laser Treatment Performed?
The procedure for an endovenous laser ablation follows a series of standard steps, but your vein specialist customizes it to suit your needs. It's a relatively painless procedure done on an outpatient basis right in the doctor's office.
The steps include:
Dr. Arad marks the area to be treated with a pen or a marker.
You lay down and get comfortable on your abdomen or your back, depending upon which side of the leg needs to be treated.
Your skin over the target vein is cleaned and your leg surrounding the area is covered.
Under ultrasound guidance, your doctor anesthetizes the injection site so you don't feel anything and then inserts a needle into the vein.
Under ultrasound guidance the needle is replaced by a catheter through a series of steps, allowing Dr. Arad to insert a laser element into the damaged vein.
After some local anesthetic is applied, the laser pulses energy into the vein, collapsing it from the inside as the laser element is slowly withdrawn.
Your doctor puts a small bandage over the insertion site.
The procedure takes 20 to 30 minutes per vein. After the process, you stay for a short period of observation, and then you can return home to recover.
During your endovenous laser ablation recovery, follow your doctor's instructions, including:
Don't drive, as this can put additional pressure on your leg; you need to arrange for someone to drive you home after your procedure.
Wear compression stockings for about two weeks after the procedure, which helps your blood flow to healthy veins.
Don't swim or take long baths, as water can irritate the injection site.
"I used to get cramps every night. I had to get up and walk for a fix. I want to thank everyone at the vein care center for fixing them. I tell everyone how happy I am.
David G.
Will I Need Other Treatments after an Endovenous Laser Ablation Procedure?
If you're getting a laser treatment to relieve pain caused by your varicose veins, you won't need any additional treatments. The ablation procedure removes the vein that was causing the pain. If you listen to your doctor's advice for avoiding the causes of varicose veins, you may never need another vein removal procedure.
If you wish to improve the overall appearance of your legs or arms, you may need additional EVLA treatments to make the scars disappear completely. You may also get complementary procedures, especially if you have more than one vein to treat. Not all veins are suitable for EVLT.
Other procedures your vascular specialist may recommend include:
For more information about endovenous laser treatment at the Vein Care Center in NYC and Paramus, Northern NJ, or to schedule an appointment with Dr. Jonathan Arad, call us at (212) 242-8164 or (201) 849-5135. Alternatively, you may visit us and discover for yourself why so many of our patients consider us to be some of the best Endovenous Laser Ablation (EVLA) providers in New York & New Jersey.