Varicose veins don't go away by themselves. In fact, if they are left untreated, you could develop serious complications, leading to more intense pain and suffering. Sclerotherapy for varicose veins is a simple, in-office treatment offered by specialists who know how to get rid of varicose veins. Visit the Vein Care Center for vein sclerotherapy. You are treated compassionately by expert vein doctors. The Vein Care Center has offices in New Jersey – Bergen County, Morris County and Union County, as well as New York City in the Financial District, Midtown Manhattan and Greenwich Village.
What Are Varicose Veins?
Varicose veins are blue or purple swollen blood vessels that form because of faulty valves. Veins transport blood back to the heart and lungs for oxygenation They have one-way valves to maintain the proper direction of the flow. If the valves fail for any reason, the blood doesn't flow properly.
Varicose veins appear on the skin as enlarged, twisted and discolored veins. They are unsightly, and if they are not treated, they can rupture, causing a hard-to-treat venous stasis ulcer. The aching and discomfort caused by this condition requires specialized treatment.
The expert vein doctors in New York City at the Vein Center know how to get rid of varicose veins. With Dr. Jonathan Arad at the helm, the vein treatment center has the latest medical technology to diagnose and treat all types of vein conditions. In Greenwich Village, the Financial District, Midtown Manhattan and Upper East Side — as well as in Bergen County, Morris County and Union County, New Jersey — the vein specialists use advanced vein treatments, including vein sclerotherapy.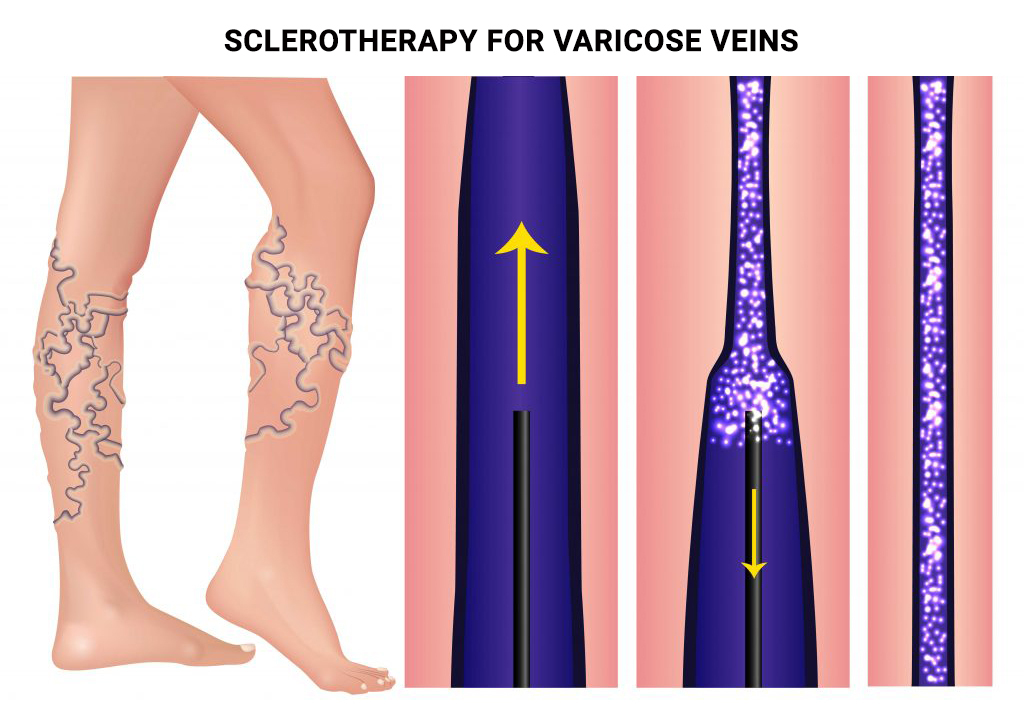 What Is Sclerotherapy for Varicose Veins?
Sclerotherapy for varicose veins is a non-surgical procedure during which your vein doctor injects a solution directly into an affected vein to cause it to collapse. The aim of this treatment is to reroute the blood flowing through a vein with faulty valves. Injection sclerotherapy for varicose veins not only eliminates varicose veins, but it also alleviates other symptoms.
The procedure involves:
An initial vein consultation with a vein specialist
A medical review including an assessment of your medical history,  a physical examination of the vein, ultrasounds and checks for an underlying vein disease
In-office sclerotherapy for varicose veins, with no anesthesia needed
Cleaning the site on your leg and using a fine needle to inject a solution into the vein, which causes the vein to collapse
An alternative treatment called foam sclerotherapy, which covers more space in the vein
Applying pressure and massaging your leg after the injection to divert blood away from the injected vein
Potentially more than one injection, depending on the number of varicose veins you have
A board-certified surgeon specializing in the diagnosis and treatment of vein conditions, Dr. Arad uses an individualized treatment plan tailored to your diagnosis. The injection sclerotherapy for varicose veins happens after a thorough assessment and diagnosis.
Am I a Candidate for Sclerotherapy for Varicose Veins?
Varicose veins are unsightly and often painful, limiting your mobility and possibly affecting your self-esteem. Research shows that 23 percent of U.S. adults have varicose veins. Almost 50 percent of these patients have a family history of vein conditions.
Common symptoms that make you a candidate for an injection sclerotherapy for varicose veins include:
Aching and a feeling of heaviness and discomfort in your legs
Swelling and discoloration in your feet and ankles
Highly visible, unsightly and misshapen veins just beneath the skin
Burning pain and a throbbing in your legs
Muscle tightness or cramping in your legs, especially when sleeping
Dryness, flaking and itchiness in the skin around the affected vein
Complications such as ulcers, which are more difficult to treat
As long as you are in good health, don't have any other blood disorders and have a desire to learn how to get rid of varicose veins, you are most likely a suitable candidate for sclerotherapy. Dr. Arad leads a team of vein specialists that uses interventional techniques and rely on the least invasive treatments whenever possible.
"Thank you for the treatment. You made everything easy-peazie! You're all absolutely amazing at your jobs.
Philip D.
What Are the Benefits of Sclerotherapy for Varicose Veins?
Your doctor has many options to treat your varicose veins.
Some of the reasons your doctor may recommend sclerotherapy for varicose veins include:
Its effectiveness for eliminating the varicose veins
It is a non-surgical procedure that is fast and relatively pain-free
There is no need for sedation
A faster recovery with no hospital admission required
A big boost to your self-esteem and self-image after the removal of your varicose veins
Pain relief after removal of the faulty vein
Risks and side effects are mild and short-lived when you choose a vein specialist at the Vein Care Center. Following the procedure, you may temporarily experience:
Bruising
Inflammation
Skin discoloration
Allergic reaction
As part of the interventional treatment plan at the Vein Care Center, your vein doctors also teach you how to prevent varicose veins in the future. Very often, lifestyle changes may be in order as well as regular checkups with your specialist. Contact the team at the state-of-the-art vein offices in New York City and New Jersey for a personalized, effective vein treatment.