Great advances have been made in the treatment of venous ulcers, including platelet rich fibrin matrix and other dramatic venous skin ulcer treatments. You don't need to live with the unsightly and infectious skin ulcers any longer. The vein specialists at the Vein Care Center have the latest treatments and are taking appointments now. Call the nearest location for venous ulcer treatment in New Jersey in Paramus, Englewood Cliffs, Cranford, East Brunswick, or Riverdale or in New York City in Midtown Manhattan,Upper East Side, Greenwich Village, or the Financial District.
What Is an Ulcer?
An ulcer is an open wound on the skin that won't heal or keeps returning. A venous stasis ulcer is one of the most common types of ulcers. It usually affects the legs, where leaky veins may be present. Venous stasis ulcers develop when there is a problem with blood circulation, usually in the legs. If the valves within the blood vessels fail, the blood doesn't flow back to the heart properly, leading to ulcers and a condition known as venous insufficiency.
When the blood in the veins doesn't flow properly, the pressure in these blood vessels increases. The pressure weakens the walls of the veins, and an ulcer can develop from an injury or a break on the skin. The ulcer won't heal normally unless your doctor correctly diagnoses the vein problem and treats it.
At the Vein and Vascular Center offices in New York City and New Jersey, vein doctors, led by vein expert Dr. Jonathan Arad, have access to the latest medical technology. They provide the correct diagnosis of multiple vein conditions and the delivery of effective vein treatments.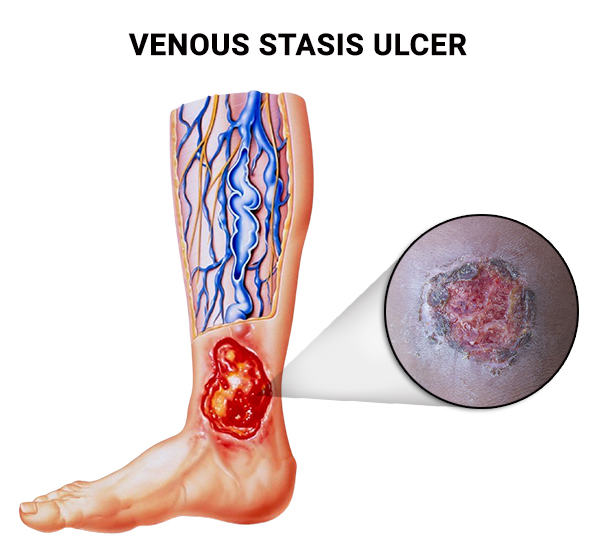 Do I Need Ulcer Treatment?
A venous ulcer in your legs affects your quality of life and can lead to serious complications, such as infections. An early diagnosis improves your treatment process and odds of success. Common symptoms that lead to the need for venous ulcer treatment include:
An open, unsightly sore that doesn't close
Pain around the wound
Itchy, flaky skin around the sore
A heavy feeling in your legs
Swelling in the affected leg and ankle
Discoloration and hardened skin around the open ulcer
Foul-smelling, unpleasant discharge from the ulcer because of an infection
A high temperature and fever
If you notice any of these symptoms, consult a vein specialist as soon as possible. Dr. Arad at the Vein Care Center is a board-certified surgeon who specializes in the diagnosis and treatment of vein conditions like ulcers and other vein conditions.
What Are the Common Ulcer Treatments?
At the Vein Care Center, an interventional approach to venous skin ulcer treatment always begins with the least invasive procedure. Treatment moves to more aggressive approaches only when necessary. After a  diagnosis, your vein doctor selects a tailored integral ulcer treatment plan that may include:
Compression bandages to ease swelling, prevent infection of the open wound and promote the healing of the ulcer
Leg elevation to encourage blood flow
Medications for ulcer treatment, such as Pentoxifylline, aspirin, antibiotics and antiseptics, depending on the severity of the ulcer and your overall health
Vein ablation, which is a minimally invasive procedure to close off an affected vein and promote the healing of the ulcer with techniques that include endovenous laser ablation (EVLA or EVLT) and endovenous radiofrequency ablation (RFA)
By using an individualized treatment plan, Dr. Arad and his team achieve better results. The vein specialists base your treatment on your diagnosis, which improves the outcome whichever treatment you receive.
What Is PRFM in Ulcer Treatment?
Platelet rich fibrin matrix (PRFM) is a cosmetic procedure, in which a vein doctor extracts platelets from your blood and uses them for treatment of another part of your skin. Advances in the use of platelet rich plasma (PRP) have led to development of PRFM as a platelet concentrate that contains a fibrin matrix to bind platelets. The process includes:
The addition of calcium chloride (CaCl2) to your PRP, which is done in a centrifugation that converts fibrinogen to fibrin
The newly formed fibrin cross-links to build a matrix with viable platelets
Using the platelet rich fibrin matrix to promote wound healing and wound sealing, making it a viable treatment for ulcers
"For a number of years years, doctors told me the only way to remove my painful varicose veins was by surgery. As a massage therapist, I had to be back to work very quickly. At the Vein Care Center it only took a few minutes, and the results were great! Within a few days, the aching I had felt for years had disappeared. Highly recommend.
Laura J.
Why Is Ulcer Treatment Important?
If you have a leg ulcer that won't respond to medication, alternative treatment for a venous stasis ulcer is the answer. A slight break in your skin when your veins have malfunctioning valves can lead to a wound that can have devastating consequences. Reasons to seek immediate venous skin ulcer treatment include:
The risk of infection, which exacerbates symptoms of pain, tenderness and fever
Damage to your skin in the form of skin inflammation and irritation
Cosmetic concerns when you live with an unsightly, open wound
Continued pain and discomfort
Infection that travels to other parts of your body
These complications highlight the need for urgent diagnosis and venous stasis ulcer treatment. The vein doctors treat a diverse range of vein conditions using a multi-disciplinary approach. Contact the vein specialists at the nearest Vein Care Center office. You can find multiple locations in New York City and New Jersey – Bergen County, Morris County and Union County.