Varicose veins are both unsightly and uncomfortable. Untreated, they can lead to a host of complications and reduced mobility. Only vein experts, such as those at the Vein Care Center in NYC and Northern NJ, can tell you if you need interventional therapies or more rigorous treatments, including endovenous radiofrequency ablation.
RFA is a non-invasive treatment for varicose veins with no downtime and little or no side effects. And the relief is permanent. Call the nearest location of the practice today for a vein consultation to determine the best course of action to treat your vein problems.
What Is Endovenous Radiofrequency Ablation?
Endovenous radiofrequency ablation (RFA) is a non-invasive procedure that can be used to treat varicose veins. The treatment relieves your symptoms, such as vein swelling and pain associated with damaged blood vessels. Radiofrequency energy cauterizes and closes the painful and unsightly varicose veins. This procedure leaves no scars as it's less invasive than vein stripping surgery.
If you're considering vein treatment for cosmetic reasons or to relieve discomfort, you need an expert evaluation of your problem veins. Dr. Jonathan Arad and the team of vein treatment doctors at the Advanced Vein Center — with multiple locations in NYC and New Jersey — are highly skilled doctors who specialize in the diagnosis and treatment of many vein conditions.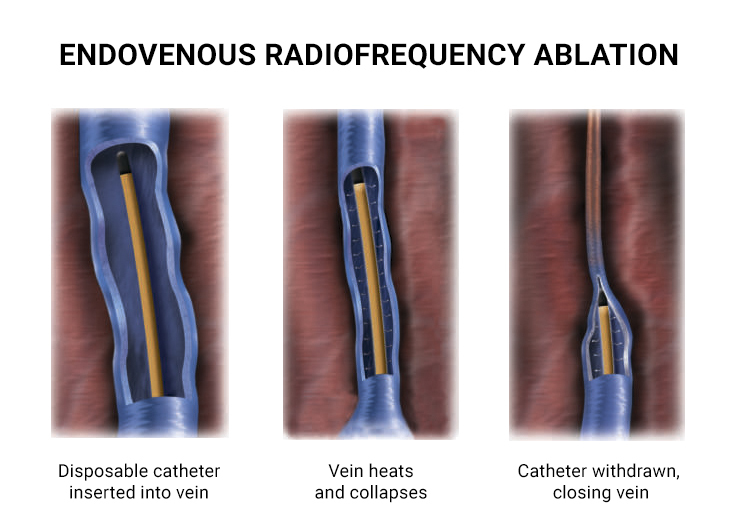 Who Can Benefit from RFA Vein Ablation?
Anyone suffering from varicose veins can benefit from vein ablation, as long as you don't have a blood disorder and are in good health otherwise. Veins can become enlarged when the valves that allow blood to return from your legs to your heart weaken and leak. When there's extra blood in yours veins, it can cause damage, leading to spider veins or larger varicose veins.
Your doctor may recommend RFA vein ablation if you're experiencing symptoms that include:
Leg fatigue and heaviness
Aching or throbbing pain
Swelling veins or swollen limbs
Skin discoloration around each varicose vein
Conservative treatment methods are recommended before considering RFA vein ablation at the Vein Care Center. Less invasive, interventional therapies may provide the relief you need without resorting to more invasive procedures.
More conservative treatments include:
Non-steroidal anti-inflammatory drugs, such as ibuprofen
Compression stockings
Elevating your legs
Small varicose veins and thin veins also may be treated with sclerotherapy or laser therapy. RFA vein ablation is the preferred treatment for large varicose veins because it's non-invasive and so effective.
How Is Radiofrequency Ablation for Varicose Veins Done?
RFA uses heat from ultrasounds, which creates scar tissue, essentially forcing the vein to close.
The steps of this procedure involve:
Your doctor uses ultrasound to map out the veins to be treated.
A local anesthetic is injected.
A catheter is inserted into the vein and your doctor pushes a tiny radiofrequency fiber through it.
Radiofrequency energy is heated and delivered through this fiber to the vein wall, which causes the vein to collapse.
Pressure is applied to prevent bleeding. RFA treatment for varicose veins is done on an outpatient basis, usually in less than an hour at your doctor's office. The opening in the skin is covered with a bandage; you don't need any sutures.
What's Involved in Radiofrequency Ablation Varicose Veins Recovery?
RFA for varicose veins requires no hospitalization and no downtime. If you're like many patients, you feel immediate relief of symptoms, and you can resume normal activities right away.
Your doctor may give you instructions that include:
Wear a gradient compression stocking for a week or more to reduce swelling and bruising
Avoid prolonged sitting or lying down because being inactive can increase the risk of complications
Avoid strenuous activity, as directed by your doctor
RFA treatment for varicose veins is a safe and effective form of vein treatment. Possible side effects that you may experience include temporary skin burns, pain or a burning sensation. The more experienced your doctor is with RFA varicose veins treatment, the lower the risk of side effects or complications.
"The staff is friendly and very helpful. It's an awesome place. I like to ask questions and the Doctor was very happy to help and answer all my questions in a very informative way.
Kim B.
Where Is Radiofrequency Ablation for Varicose Veins Done in NYC or NJ?
In New York City or New Jersey, your best bet for compassionate and complete treatment is at the Vein Care Center. At this practice, the doctors believe that every patient is unique. You can trust your vein expert to prepare a treatment plan geared to your condition to restore your active lifestyle as soon as possible.
In addition to their experience treating varicose veins, the talented team of vein doctors also offer vein treatments for a wide range of vein conditions, such as:
Leave the diagnosis and treatment of your veins to a board-certified physician specializing in this area. Don't ignore signs of vein problems that could lead to serious complications. Contact the closest Vein Care Center today for a vein consultation. Whether you need some preventative advice, an endovenous radiofrequency ablation or endoscopic vein surgery, you can get the best at the Vein Care Center.