Sclerotherapy treatment for spider veins is an easy, quick way to dispense with bothersome red veins on the face. Since the side effects of sclerotherapy for spider veins are so minimal, it's a safe procedure for spider veins anywhere on your body. To get the expertise you need for sclerotherapy treatments, call the Vein Care Center, with convenient locations in NYC's Financial District, Midtown Manhattan, Upper East Side, and Greenwich Village. In New Jersey, find the vein specialists in Englewood Cliffs, Cranford, East Brunswick, Paramus and Riverdale.
What Is Sclerotherapy for Spider Veins?
Sclerotherapy is a non-surgical method of treatment that involves injecting medicine into affected veins, causing them to shrink and eventually disappear. The procedure may be done for cosmetic reasons to improve your appearance or performed to relieve symptoms caused by spider veins, such as burning, aching, and swelling.
Sclerotherapy is a popular, proven technique used to treat spider veins and small varicose veins. In most cases, spider vein sclerotherapy is done on an outpatient basis, meaning you can return to your normal activities after the procedure. It takes 45 minutes or less, depending on the number of veins to be treated.
The experts at the Veins Clinic diagnose your veins to determine the best course of treatment.
Dr. Jonathan Arad and a talented team of vein experts design a customized treatment plan for your particular needs, whether you need spider vein removal or treatment for other vein conditions, such as: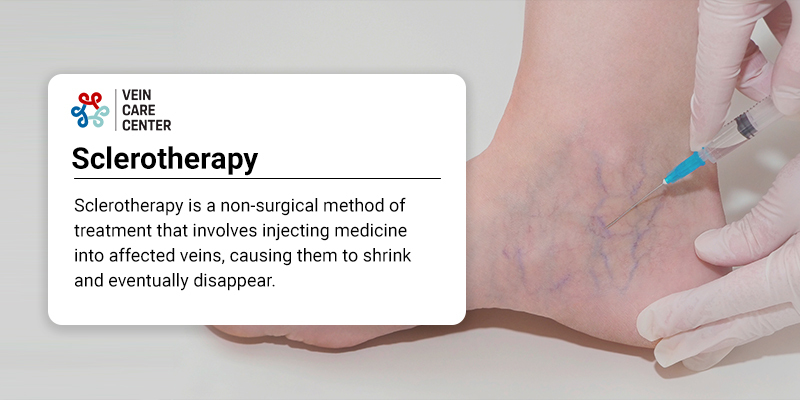 Who Is a Good Candidate for Sclerotherapy Treatment?
Suitable candidates usually exhibit the following characteristics:
They have spider veins or small varicose veins in their legs;
They range in age from 30 to 60 years old;
They have not been pregnant or breastfeeding for at least three months and have had no past coagulation issues;
They can carefully follow pre-and post-procedure instructions and understand that the treatment will not prevent future vein formation.
How to Prepare for Procedure?
If your experienced vein doctor in New York recommends sclerotherapy for spider veins, you must follow a few simple steps to prepare for your procedure:
Shower and wash your legs with antibacterial soap;
Wear comfortable shoes and loose-fitting attire;
Eat a meal or snack and drink plenty of water;
Inform your doctor about all the medicines you take, especially birth control pills and estrogen;
If you're nervous about the procedure, notify your doctor so a mild sedative can be provided if needed;
If you already have compression stockings, bring them with you;
For at least 7 days before therapy, avoid using aspirin, ibuprofen, or other non-steroidal anti-inflammatory medicines.
How Is Spider Vein Sclerotherapy Done?
Sclerotherapy is done using a prescribed set of steps, including:
Laying on your back or stomach, depending on the location of the affected veins, with your legs slightly elevated.
Your vein specialist cleanses the area to be treated and applies a topical numbing agent, if necessary.
The solution is injected into your spider veins using fine needles.
Your doctor may adjust the solution or the processes if you experience more discomfort than mild stinging. Your comfort always comes first at the Vein Care Center.
After the needle is withdrawn, your doctor massages the area to help disperse the solution and to keep blood out of the treated vein.
The injected solution irritates the lining inside the vein, causing it to block the flow of blood and collapse. The vein eventually becomes scar tissue and disappears, absorbed by your body. You may need follow-up treatments to fully collapse a vein.
What Kind of Results Can I Expect?
The darker color of the vein will fade within the days following the injection. Patients with smaller spider veins should expect to see results in 3 to 6 weeks, whereas those with larger veins may require 3 to 4 months.
What Happens After Sclerotherapy Treatment for Spider Veins?
Spider veins can appear anywhere on the body, although they are most common on the legs and face. You are encouraged to walk after the procedure, especially if you had spider veins on your legs. You should be able to drive yourself home.
Your doctor provides instructions on what to do after treatment, which may include:
Using a hot tub, whirlpool, or sauna;
Showering or bathing in hot water;
Participating in strenuous exercises or sports;
Hot-compressing the treated area;
Taking ibuprofen, aspirin, or any anti-inflammatory medication;
Tanning or intentional sun exposure.
Tylenol is often recommended for any pain. You may need to avoid anti-inflammatory medications for a few days. The blood that used to flow through that vein finds nearby healthy veins to use.
What Happens if You Don't Wear Compression Stockings After Sclerotherapy?
Wearing compression stockings for two weeks after your procedure is necessary to keep blood out of treated veins and prevent them from reappearing. The stockings should be of the right weight, pressure, and length for you.
Is Sclerotherapy for Spider Veins Safe?
Spider veins sclerotherapy doesn't usually result in serious side effects or complications, especially when you rely on doctors with expertise in the procedure, like those at the Vein Care Center. Sclerotherapy is a proven technique that works. And sclerotherapy doesn't cause more spider veins.
The most common side effects, which are minor and temporary, include:
Raised red areas
Bruising
Spots or brown lines on the skin
Small red sores
These side effects usually go away in a few days, and they are more annoying than uncomfortable. You may not even experience them. Your doctor will answer any questions or concerns you may have about your risks and what to expect before your procedure.
Is Sclerotherapy Permanent for Spider Veins?
The effect of the treatment is permanent as veins are eliminated and reabsorbed into the body. These veins will not darken or reappear, but the treatment will not prevent the formation of new veins. You may require more treatments if new veins emerge and become problematic.
How Many Sessions Are Needed?
The amount of therapy sessions you need depends on the size of your spider veins and the degree to which they have spread. To get near-complete results, most individuals need 2 to 4 therapy sessions. The procedures should be carried out several weeks to a month apart to ensure complete healing before re-administering the medicine.
How Much Does Sclerotherapy Cost?
Sclerotherapy cost varies on the location and severity of the spider veins being treated, the amount of sclerosant medicine needed, the number of injections, and the number of follow-up sessions. A single session of Sclerotherapy costs $400-600 on average.
"The treatment was far easier than I ever imagined, or I think it was the Doctor who made it easier for me. I was terrified at the beginning but their care and professionalism made things very easy for me.
Derek P.
Laser vs. Sclerotherapy for Spider Veins?
Sclerotherapy is one of several options for the treatment of spider veins and varicose veins. Your vein doctor in NYC considers several factors, including the severity of your symptoms, when choosing laser vs. sclerotherapy.
Other vein treatments include:
Your doctor makes the determination based on your symptoms, previous vein problems, and your overall health. If you are one of the many people bothered by vein problems in NYC or NJ,  choose a top vein specialist. You can count on the expertise you will find at the Vein Care Center. Contact the nearest office location today for a vein consultation.