For many people, facial veins simply present a cosmetic issue they're willing to live with or cover up with makeup. But you don't have to continue with that mindset since there's a group of exceptional vein doctors near you in New York City and New Jersey. Besides, spider veins on the face may indicate a serious medical condition affecting your blood vessels. Call the nearest office today for a vein consultation and the best treatment for facial thread veins.
What Makes Facial Veins Different?
Spider veins on the face are a result of physical damage to the vein walls. Although they're rarely painful, as compared to varicose veins, these hard-to-miss broken blood vessels are near the skin's surface, and as such, they affect the appearance. While you may be able to live with these small red or purple lines on your legs, you may feel more inclined to seek effective facial vein removal when they're on your face.
Additionally, facial veins play a critical role in the health of your face. These blood vessels take blood back to the heart and lungs for oxygenation. If there's a change in the vein pressure, this can lead to damaged veins, which makes the red veins on the face even darker and more visible.
The vein doctors, led by Dr. Jonathan Arad, at the Vein Care Center have extensive experience treating a wide range of venous conditions through individualized treatment. The practice has offices in New York City in the Financial District, Greenwich Village and Midtown Manhattan, and Upper East Side. In New Jersey, you can find them in Englewood Cliffs, Cranford, Paramus, East Brunswick and Riverdale.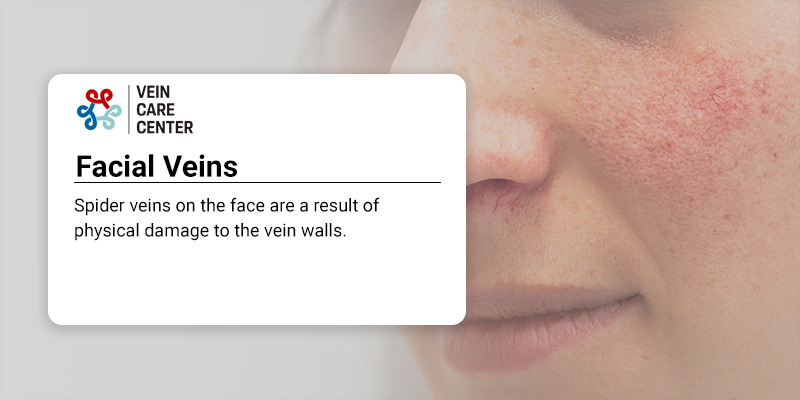 What Do Broken Facial Veins Look Like?
Spider veins on the face and broken red veins on the face are more pronounced than a simple blemish. They may appear in a range of different colors and shapes, which is why you need to receive a correct diagnosis from an experienced vein specialist before you learn how to get rid of spider veins on the face.
Common characteristics of troubling facial blood vessels include:
Swollen, enlarged veins just below the skin surface
A web-shaped appearance
Unusual redness on the cheeks
Blue veins that show through, sometimes in a thread-like shape
Unsightly bulges when leaning forward, smiling, talking or straining
Long thready veins on the chin
The team of vein doctors at the Vein Care Center takes an interventional approach to the spider vein treatments of facial thread veins. They consider your lifestyle, how the condition affects you and what other underlying conditions you may have. Only then do they recommend a possible treatment.
How Can Facial Veins Affect Me?
While spider veins on your face may appear tiny and inconsequential, they may have an impact on your overall health and well-being.
While everyone reacts differently, it's common for facial veins to produce:
Lowered self-esteem. When you're self-conscious about your appearance, you might feel like everyone notices your spider veins. This in turn can lead to lifestyle choices that keep you out of the public eye more often.
Feeling of hopelessness. After spending considerable focus, time and money on your skin care routine, you may believe that the unsightly facial veins ruin it all and you'll never be attractive.
Signs that you have a serious medical condition. Following an extensive vein consultation that includes imaging tests and a thorough medical history, your doctor may discover an underlying condition that's causing the spider web-shaped veins on your face.
No matter the reason that you want to learn how to get rid of spider veins on the face, your vein care team in New York City and New Jersey, provides the most effective facial vein removal. They serve your needs as well by offering tips on how you can prevent a future outbreak of facial veins.
What Causes Facial Veins?
Whether you have broken facial veins or spider veins on the face, your doctor first identifies the underlying cause to create the most effective treatment for you.
Common reasons for these problem veins include:
Hereditary factors
Sun damage, as UV exposure leads to the enlarging of your blood vessels
Facial injuries
Excessive facial scrubbing
Smoking
Alcohol consumption, which dilates veins temporarily
Changes in hormonal levels during pregnancy
Rosacea, causing red and blue enlarged spider facial veins
Environmental pollutants
Sudden change in pressure when sneezing or coughing that can break a blood vessel
Once the cause of your facial veins is determined, you begin a personalized treatment plan designed specifically for you. Follow your doctor's instructions for the best treatment and recovery.
"I am very happy with the results. I couldn't be happier how my I look. Definitely recommending them to everyone.
Graham G.
What's the Best Treatment for Spider Veins on the Face?
Dr. Arad relies on the latest technology and most advance approaches to diagnose and provide treatment for facial thread veins. An interventional approach means your doctor takes your lifestyle into consideration, and your treatment always begins with the least invasive procedures.
Your spider veins on the face treatment may consist of:
Retinoid creams that soften the skin damage and reduce unsightly veins
Home remedies, such as a cold compress, vitamin C supplements and the use of aloe vera
Laser therapy for spider veins, an in-office treatment for spider veins on the face removal that involves the use of laser light to destroy the blood vessels and restore your skin's natural appearance
Intense pulsed light (IPL) therapy, which is an advanced spider veins on the face treatment for deeper veins
Sclerotherapy for spider veins, a minimally invasive procedure, during which your doctor injects a salt solution directly into the affected vein, leading to its collapse and disappearance
If you're in NYC or NJ, contact the team today to schedule an appointment for an initial vein consultation. Get rid of the veins on the face that may be bothering you and affecting your quality of life and health.