Whether you are suffering from painful venous issues or unsightly varicose veins, approaching the right doctor from the start can make all the difference for your treatment and, ultimately, your health. Do not ignore pain, swelling, and heaviness in the legs, as they may be a sign of a medical condition that should not be left untreated. Finding the right vascular specialist is the first step in diagnosing and treating your problem effectively. With years of experience, training, and credentials in this field, Dr. Jonathan Arad at the Vein Care Center is committed to helping his patients achieve long-term relief and return to their normal activities very soon.
You may need to see a vein doctor if you have unusual symptoms like pain and heaviness in the legs, discoloration around the ankles, and bulging veins that feel bumpy to the touch. Varicose and spider veins are the two most common vein problems people face that result from chronic venous insufficiency or venous reflux. These vein conditions develop when venous valves are unable to function appropriately.
Vein valves are responsible for transporting the blood from the legs back to the heart. When the veins malfunction, blood begins to pool in the legs, causing spider and varicose veins. Vein problems can form deep inside your body, like deep vein thrombosis (DVT), which is tough to recognize. It is often difficult to diagnose the hidden symptoms, and an expert vein doctor may have to run tests, including vein screening and ultrasound, to determine venous issues.
If they are not treated timely and effectively, vein disease symptoms can worsen and lead to complications that require surgical procedures. A vein specialist is an expert who can treat your vein disorder permanently and ensure you do not have to go through invasive procedures and suffer side effects to find relief.
How to Find the Best Vein Doctor
Vein health is no joke, as veins are crucial to your normal activities and wellbeing. You must choose the right path to successful treatment by finding a vein doctor who will diagnose your condition correctly, discover what type of vein or vascular issues you are suffering from, and suggest the most appropriate options for your particular needs.
Do not trust anyone with your vein problems, as it could land you with even more complications and suffering. To ensure your vein symptoms and complications are cared for most successfully, choose a vein clinic where you will get served for your specific problems.
"how to find the best vein doctor near me." With today's technology and education, you can search for the right healthcare provider and treatment. The following tips will help you understand what to look for in a vein clinic. Coming straight from experts in the field, these tips narrow down the top factors that deliver the results you seek.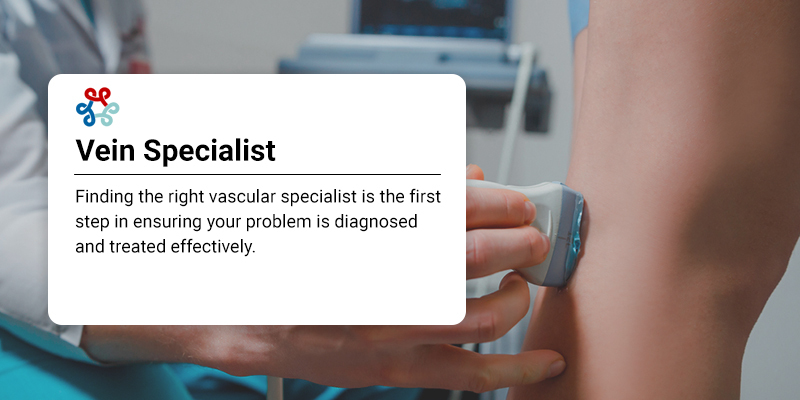 Tips on Finding the Best Vein Treatment Clinic
Find an Advanced Vein Care Center
Search for an advanced vein care center equipped with the latest equipment and machinery to diagnose and treat your venous conditions. Due to limited facilities, some clinics still use surgical procedures. Avoid such clinics and doctors as minimally invasive vein treatments offer quick and efficient relief from chronic vein insufficiency, including varicose veins, spider veins, and DVT.
Cost is also a crucial factor in getting rid of venous problems. Vein treatment can be expensive, and you must discuss this aspect with the doctor before moving forward. Many clinics are not open about how much it would cost and do not provide an accurate quote. Stay away from such places and look for a vein clinic that offers insurance coverage and financial help.
If you do not know how to find the best vein clinic, check out Google or Yelp Reviews and go through patient testimonials to learn more about the place. People with similar vein conditions are more likely to give honest reviews about a vein treatment center and its cost. You will also get some details regarding the medical procedures to know what you will be going through.
Look For Clinics That Specialize in Minimally Invasive Treatments
Vascular surgery was the only option for treating vein disorders in the past. However, the advanced developments in technology ensure that varicose and spider veins get treated without a trip to a surgical room, general anesthesia, post-op recovery, and costly human resource. Look for clinics specializing in minimally invasive vein treatments like sclerotherapy, endovenous laser treatment, and micro phlebectomy that provide effective results. You can get back to work and resume normal activities shortly after the procedure.
Seek Board-Certified Vein Specialists
Diagnosing and treating vein disorders can be complicated, and only an expert vein doctor with related educational background and training can do it right. As a patient, you cannot determine what to do and which plan would work right for varicose vein removal.
Important details to look for when selecting a vein disease specialist include academic excellence, years of experience, specialty certifications, etc. The vein doctor should specialize in non-surgical procedures such as endovenous laser ablation, ambulatory phlebectomy, radiofrequency ablation, sclerotherapy, and conservative therapies that do not result in any side effects.
Search for certifications by the American Board of Venous & Lymphatic Medicine as these doctors are 'board eligible' and demonstrate a high level of professionalism and ethical care for patients. Board-certified doctors have to go through extensive specialty training and pass a comprehensive exam. They can most successfully provide the best vein treatment with minimally invasive endovascular procedures to vascular surgery.
Schedule a Meeting with Your Vein Doctor
Before moving forward with treatment, schedule a meeting with the vein doctor to know more about your options and gather information on what to expect during the procedure. A qualified and experienced vein specialist should be able to answer all your questions related to vein symptoms, treatment options, and recovery.
Some important questions to ask your vein specialist include:
How long will it take me to recover?
How do you determine if the symptoms are cosmetic or health-related?
What treatment will work best for my vein disease?
Will there be any complications during or after the treatment? If yes, how will you handle them?
Meeting the doctor and seeking answers to these questions will help you better understand your condition and potential treatments, and you can look forward to a satisfactory outcome.
Do not take your vein conditions, especially symptoms like heaviness in the legs, discoloration of ankles, pain, and swelling that persists lightly, as it could be a sign of some underlying medical condition. Schedule an appointment with an expert vein doctor, highly trained and certified to provide the best solutions.
Dr. Jonathan Arad is a highly qualified, trained, and experienced vein specialist fully equipped to treat varicose veins, spider veins, and other vein symptoms and conditions. He has helped hundreds of patients get rid of their painful veins and enjoy long-term health and wellbeing. Schedule your appointment at the Vein Care Center now and seek relief from the vein disease you are going through. With an accurate diagnosis of what you are going through, he will pinpoint the source of your discomfort and get you back on your feet as soon as possible with the most effective and comprehensive treatment plan.